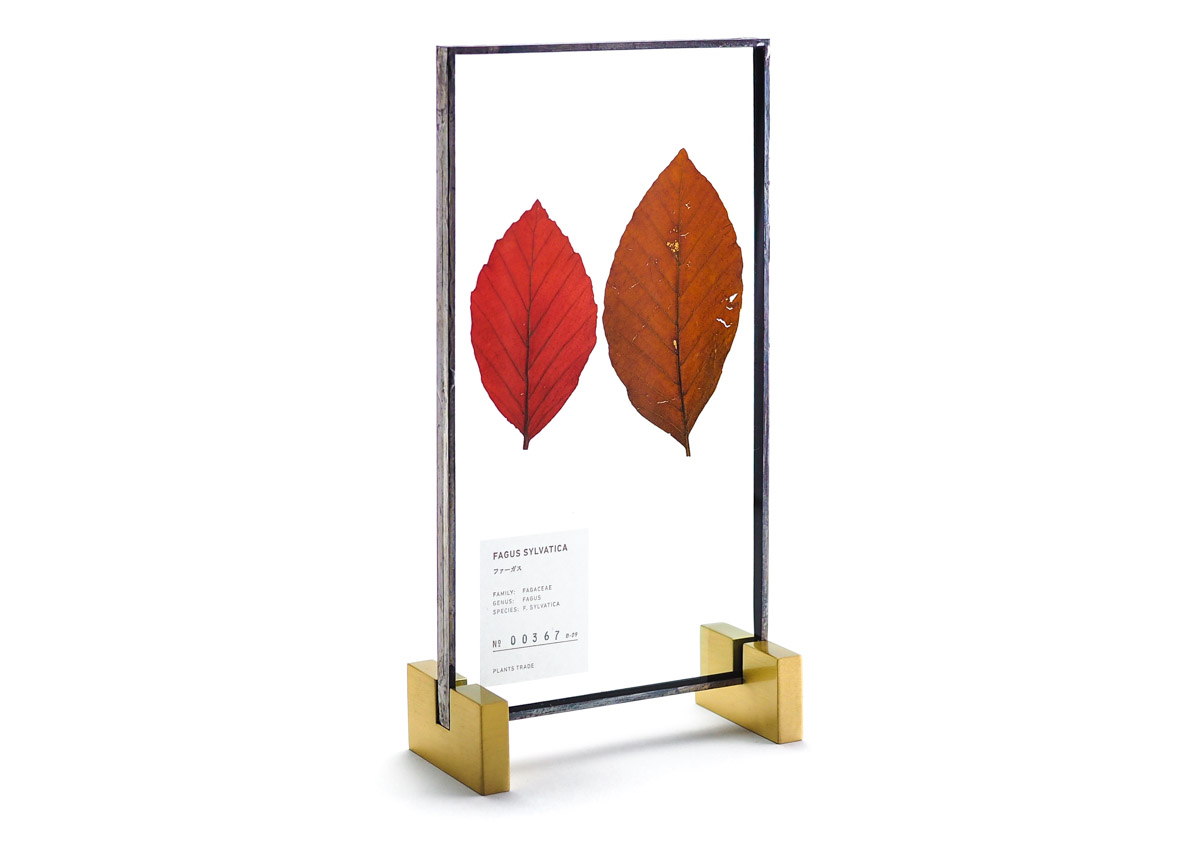 B-09 Fagus Sylvatica ファーガス
Beech (Fagus) is a genus of deciduous trees in the family Fagaceae, native to temperate Europe, Asia and North America. Recent classification systems of the genus recognize ten to thirteen species in two distinct subgenera, Engleriana and Fagus. The Engleriana subgenus is found only in East Asia, and is notably distinct from the Fagus subgenus in that these beeches are low-branching trees, often made up of several major trunks with yellowish bark.
Further differentiating characteristics include the whitish bloom on the underside of the leaves, the visible tertiary leaf veins, and a long, smooth cupule-peduncle. Fagus japonica, Fagus engleriana, and the species F. okamotoi, proposed by the botanist Chung-Fu Shen in 1992, comprise this subgenus. The better known Fagus subgenus beeches are high-branching with tall, stout trunks and smooth silver-grey bark. This group includes Fagus sylvatica, Fagus grandifolia, Fagus crenata, Fagus lucida, Fagus longipetiolata, and Fagus hayatae.
The classification of the European beech, Fagus sylvatica is complex, with a variety of different names proposed for different species and subspecies within this region (for example Fagus taurica, Fagus orientalis, and Fagus moesica). Research suggests that beeches in Eurasia differentiated fairly late in evolutionary history, during the Miocene. The populations in this area represent a range of often overlapping morphotypes, though genetic analysis does not clearly support separate species.
ファーグスはブナ属(Beech)ブナ科の落葉性広葉樹です。ヨーロッパ、アジア、北アメリカの温帯に自生し、ラテン語でブナを意味するFAGUS(ファーグス)がそのまま学名で採用されています。
葉には鋸歯があり、長さ5-15cm、幅4-10cm程度になります。花は春、新しい葉が現れた直後に咲きます。
ファーグスの木の実はタンニンを多く含むためとても苦いが、食べることができます。ブナ属の多くの葉は通常緑色ですが、赤色の葉の種類(fagus silvatica)も存在します。
ブナ属は、酸性でも塩基性でも様々な土壌で生育することができ、樹冠は密度が濃く、その下の地表は落ち葉に覆われ、その下の植物相は希薄になると言われています。
ブナ材は、湿度が変化する環境では寸法が安定しないため、家具に用いられることはあまりなく、どちらかというとこの性質を活かして家材のジョイントとして用いられることがあります。
ブナの葉は紅葉が有名で、燃えるような赤からオレンジ、黄色に変色します。比較的高い山に生える為、他の樹木ほど山道からは見かけにくいのですが、濃厚な赤は見応えがあります。
また、ブナの葉は光に反射しやすく、光が当たると黄金の炎のようとも例えられます。
葉の縁からは細かい毛のようなものが生えているのもブナの葉の特徴でもあります。
(quote some part from wikipedia)

Size
A : W105 x H190 x D8 mm
C : W105 x H400 x D6 mm